Coulsons History
This is a Legacy site for historic reasons
Coulsons merged with Ashby Berry on 31 March 2012 to become Ashby Berry Coulsons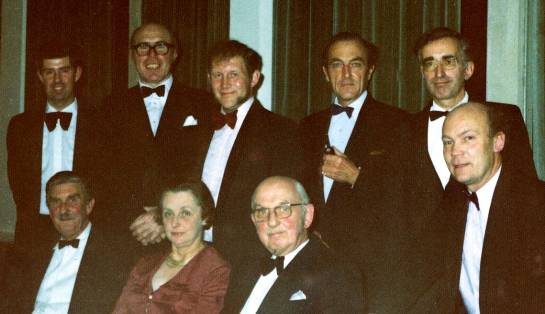 (Left to right back row) Alan Thraves, Brian Collison, Denis Stagg, John Bryden, Laurence Bradshaw
(Left to right seated) Kenneth Snow, Ethel Gregory, Thomas Hudson, Geoffrey Heselton

COULSONS practised as such from October 1995. Prior to that the firm was known as COULSON & CO and had practised under that name since 1July 1967, on which date three firms amalgamated: Bryden & Co; Robinson, Coulson & Co and Pulleyn, Heselton & Co. The partners in this new amalgamated firm were John Bryden, Brian Collison, Denis Stagg, Kenneth Snow, Thomas Hudson, Laurence Bradshaw, Geoffrey Heselton and Ethel Gregory.
On the 31 March 2012 Coulsons merged with Ashby Berry to form Ashby Berry Coulsons.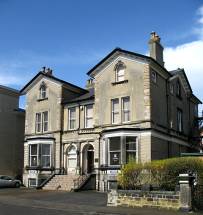 Bryden & Co

John Bryden came to Scarborough in 1946 on leaving the RAF after the Second World War, joining Clare Catley & Co, which was originally founded about 1920. John Bryden succeeded to the whole practice in 1962 and he moved from Smiths Chambers in Westborough to Coulsons' present offices, 2 Belgrave Crescent, in 1963. This beautiful Victorian building was at one time the home of Henry Vandyke Carter, the artist who illustrated the famous Gray's Anatomy medical book published in 1858, and was the son of Henry Barlow Carter, the eminent 19 century landscape artist. Brian Collison and Denis Stagg joined Bryden and Co as senior assistants in August 1962 and November 1964 respectively and became partners in 1965.
Robinson Coulson & Co

The founder of this firm was Charles E Bradley, who was admitted as a member of the Institute of Chartered Accountants on 4 February 1885, less than five years after the Institute was incorporated by Royal Charter. He practised at Bar Chambers, Scarborough, and it may be interesting to note that the chair he used is still in existence in the Board Room. In 1895 Charles Bradley took into partnership Mr E W Davis, who had been articled to him. The office at that time was in Huntriss Chambers, but the partnership only lasted six years, Davis being bought out by Charles Bradley for £250.
William S Robinson was articled to Charles Bradley, qualified in 1898 and became a partner in 1905. From 1908 William Robinson practised alone and in 1919 he took into partnership Edward T Coulson, the firm's name becoming W S Robinson & Coulson. In 1924 Vernon W Kirkby was admitted into partnership, to be followed in 1930 by Thomas H Jackson and around that time the offices were transferred to Alma Chambers in Alma Square. William Robinson retired about 1945 and Vernon Kirkby in 1947.
Robinson Coulson Kirkby & Co are listed in legal text books in a Practical Auditing case regarding the Liability of the Auditors. In the case of Scarborough Harbour Commissioners v Robinson Coulson Kirkby & Co 1934 the Court of Appeal reversed the decision of the lower Court which had found the auditors guilty of negligence in failing to report to the Harbour Commissions that a debt due to them appeared to be bad. It was shown that the auditors had reason to believe that the state of the debt in question was known to the Commissioners and that their policy was not to press immediately for payment. The Master of the Rolls in the course of his judgement laid emphasis on the fact that all the circumstances of the case must be considered and said "it is difficult to reconstruct the circumstances but having regard to all the facts of the case it appears to me that the charge has not been made out.
Ken Snow was articled to Edward Coulson in 1933, qualified in 1938 and became a partner in 1947 together with Tom Hudson, who had joined the firm as senior clerk during World War II. The partnership was dissolved in 1951 when Thomas Jackson set up a separate practice: Edward Coulson, Tom Hudson and Ken Snow remaining in partnership under the name of Robinson, Coulson & Co. In the late 1940s branches of the practice were opened in Filey and Whitby. In 1955 Lionel Walter became a partner; Edward Coulson retired in 1956 and in 1960 Tom Hudson and Ken Snow bought out Lionel Walter's interest in the firm. Laurence Bradshaw became a partner in 1965.
Pulleyn Heselton & Co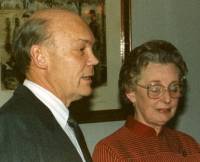 Geoff Heselton and Ethel Gregory.
Pulleyn Heselton & Herbert W Pulleyn commenced to practice in York in February 1898 and took into partnership Hugh L Creer in 1909, the firm then becoming Pulleyn, Creer & Co. Jack Pulleyn, the son of the founder, became a partner in 1931 and Herbert W Pulleyn died in 1934. A small office was opened in Scarborough in the late thirties but closed during the Second World War, during which time two further partners were taken into the York practice. Geoff Heselton re-opened a Scarborough office at 10 York Place in 1948: Ethel Gregory was the first member of staff and in 1952 the firm divided into two separate practices: Creer, Etty, Rank & Co and Pulleyn, Heselton & Co. Jack Pulleyn moved to Torquay and played a decreasing part in the firm over the next few years, while Geoff Heselton ran the York and Scarborough offices, and Bridlington from 1957, and was joined in partnership by Ethel Gregory in 1961. Upon the amalgamation in 1967 Geoff Heselton continued also to be a partner in Pulleyn, Heselton & Co in York.
Coulson & Co

Alan Thraves, who had been articled to Tom Hudson in 1956, rejoined the firm in 1969 and became a partner in Coulson & Co on 1 November 1974. Tom Hudson retired after 48 years as an accountant on 31 October 1975 with an article in the Scarborough Evening News mentioning how when he began his career in accountancy it was the norm to pay a premium to the firm taking on the articled clerk, who would work for no pay for the following five years.
Coulson & Co were auditors to Scarborough Borough Council until local government reorganisation in 1975.
John Bryden and Ken Snow retired on 30 April 1979. Denis Stagg said "John Bryden was a modest man who did not often speak about his war service, but I do remember a certificate on his office wall recording the fact that he was mentioned in dispatches for services beyond the call of duty. I was very proud to take over his office when he retired."
David Bryden, son of John Bryden, who had earlier been articled to Denis Stagg rejoined the firm in 1973 after gaining two and a half years' experience working with international accountants, Peat, Marwick, Mitchell & Co, and became a partner on 1 November 1979. Whilst David has been a partner he has also been Chairman and Secretary of the Scarborough Chartered Accountants and the Scarborough representative on the Executive Committee of the Humberside and District Chartered Accountants. He has also been Chairman and President of Scarborough Chamber of Trade and sat on the Executive Committee of Scarborough Civic Society for approximately 15 years.
Geoff Heselton retired on 31 October 1985. He had been President of the Hull, East Yorkshire and Lincolnshire Society of Chartered Accountants (as it was then called) in 1963/64. Shortly before Geoff retired he took on the Secretaryship of the Society for three years. Geoff was also a Magistrate for 25 years, Chairman of the Scarborough Bench for five years and Vice Chairman of the North Yorkshire Magistrates Committee. Just to ensure there was never an empty slot in his diary, Geoff was also appointed a Deputy Lieutenant for North Yorkshire in 1988 and was a Director of Scarborough Theatre Trust (Stephen Joseph Theatre) for many years.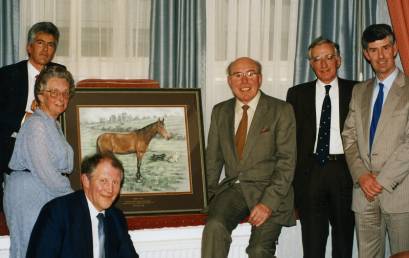 Ethel Gregory retired as a partner on 30 April 1988 and became a part-time employee, finally retiring on 31 December 1988. As you can see from Ethel's retirement gift, she had a passion for horses and spent 33 years as treasurer of the Derwent Hunt.
Adrian K Allen joined the firm as a Senior in September 1984 having qualified in Birmingham and was admitted to partnership on 1 November 1989.
Both Brian Collison and Denis Stagg retired on 5 April 1995. Brian worked for the firm for 33 years. He transferred his articles from a Birmingham firm in 1962 to work for Bryden & Co where he completed his Articles. John Bryden gave Brian the responsibility of reorganising the company's systems and redesigning the layout of accounts etc to make them more in line with modern national accountancy firms' practises. Brian spent some time as a committee member of the local branch of Chartered Accountants with a year as Chairman. Denis Stagg had worked for Coulsons for 31 years. He was President of Scarborough Junior Chamber of Commerce 1969/70. He was Scarborough's representative on the Hull and District Chartered Accountants Committee for 12 years. Denis was also the Chamber of Trade's spokesperson for the introduction of decimalisation in 1971 and value added tax in 1973.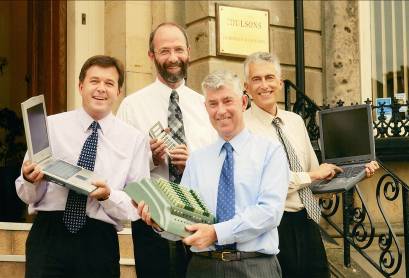 Paul Adrian Alan and David
On Alan's retirement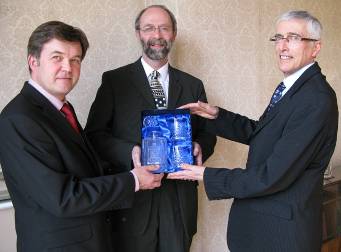 Paul Adrian David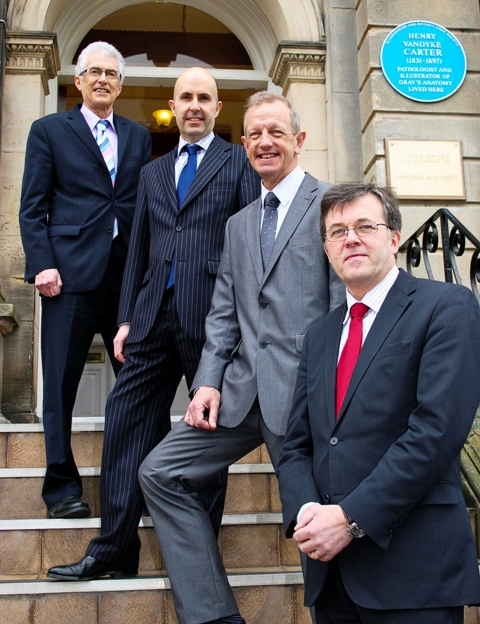 David Tim Graeme Paul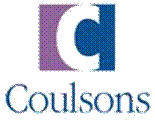 Paul Boyd Hodgson was admitted into partnership in April 1995, having qualified with the firm and managed the Audit Department. Laurence Bradshaw retired from Coulsons on 31 March 1998. Laurence was elected President of the Humberside and District Society of Chartered Accountants in 1981 having previously been Chairman and Secretary of the Scarborough Group of Chartered Accountants. Alan Thraves retired from the firm on 30 September 2003.
Adrian Allen left the Partnership on 31 March 2008 to begin a new life in the Birmingham area.The photograph to the left shows Paul Hodgson (left) and David Bryden(right) presenting Adrian Allen with his leaving gift of a crystal whisky decanter and glasses suitably engraved with the Coulsons logo to remind him of his enjoyable 18.5 years as a partner of the firm.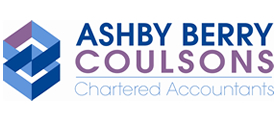 Coulsons and Ashby Berry merged on 31 March 2012 bringing together David Bryden Tim Jones Graeme Hay and Paul Hodgson