Coulson & Co

Alan Thraves, who had been articled to Tom Hudson in 1956, rejoined the firm in 1969 and became a partner in Coulson & Co on 1 November 1974. Tom Hudson retired after 48 years as an accountant on 31 October 1975 with an article in the Scarborough Evening News mentioning how when he began his career in accountancy it was the norm to pay a premium to the firm taking on the articled clerk, who would work for no pay for the following five years.
Coulson & Co were auditors to Scarborough Borough Council until local government reorganisation in 1975.
John Bryden and Ken Snow retired on 30 April 1979. Denis Stagg said "John Bryden was a modest man who did not often speak about his war service, but I do remember a certificate on his office wall recording the fact that he was mentioned in dispatches for services beyond the call of duty. I was very proud to take over his office when he retired."
David Bryden, son of John Bryden, who had earlier been articled to Denis Stagg rejoined the firm in 1973 after gaining two and a half years' experience working with international accountants, Peat, Marwick, Mitchell & Co, and became a partner on 1 November 1979. Whilst David has been a partner he has also been Chairman and Secretary of the Scarborough Chartered Accountants and the Scarborough representative on the Executive Committee of the Humberside and District Chartered Accountants. He has also been Chairman and President of Scarborough Chamber of Trade and sat on the Executive Committee of Scarborough Civic Society for approximately 15 years.
Geoff Heselton retired on 31 October 1985. He had been President of the Hull, East Yorkshire and Lincolnshire Society of Chartered Accountants (as it was then called) in 1963/64. Shortly before Geoff retired he took on the Secretaryship of the Society for three years. Geoff was also a Magistrate for 25 years, Chairman of the Scarborough Bench for five years and Vice Chairman of the North Yorkshire Magistrates Committee. Just to ensure there was never an empty slot in his diary, Geoff was also appointed a Deputy Lieutenant for North Yorkshire in 1988 and was a Director of Scarborough Theatre Trust (Stephen Joseph Theatre) for many years.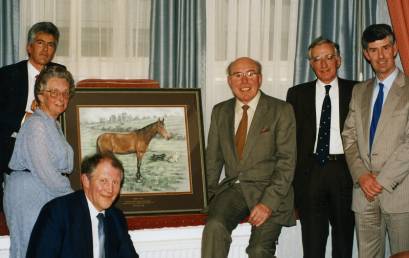 Ethel Gregory retired as a partner on 30 April 1988 and became a part-time employee, finally retiring on 31 December 1988. As you can see from Ethel's retirement gift, she had a passion for horses and spent 33 years as treasurer of the Derwent Hunt.
Adrian K Allen joined the firm as a Senior in September 1984 having qualified in Birmingham and was admitted to partnership on 1 November 1989.
Both Brian Collison and Denis Stagg retired on 5 April 1995. Brian worked for the firm for 33 years. He transferred his articles from a Birmingham firm in 1962 to work for Bryden & Co where he completed his Articles. John Bryden gave Brian the responsibility of reorganising the company's systems and redesigning the layout of accounts etc to make them more in line with modern national accountancy firms' practises. Brian spent some time as a committee member of the local branch of Chartered Accountants with a year as Chairman. Denis Stagg had worked for Coulsons for 31 years. He was President of Scarborough Junior Chamber of Commerce 1969/70. He was Scarborough's representative on the Hull and District Chartered Accountants Committee for 12 years. Denis was also the Chamber of Trade's spokesperson for the introduction of decimalisation in 1971 and value added tax in 1973.