In 1857, after his mother's death, Carter left England to join the Indian Medical Service where he spent his working life in Bombay commencing in 1858 as Professor of Anatomy and Physiology at Grant Medical College. After a series of promotions he achieved the Army rank of Brigade Surgeon in 1872 and became an international figure in the world of infectious diseases and tropical medicine. Having completed 14 years service in India, Henry was granted study leave to investigate the management of cases of leprosy in Norway, where the disease had been a serious problem for 20 years. Henry returned to India, where in 1877 he studied famine fever in the starving population of Bombay. In 1882 Carter received the Stewart Prize awarded by the British Medical Association for research in the cause and prevention of epidemic diseases.
At this time Henry's own health was failing. He was suffering from pulmonary tuberculosis and had to take a year's sick leave in England. Carter returned to Bombay in 1884 and resumed his former duties until he finally retired to Scarborough in 1888. Two years after his retirement he became Deputy Surgeon General and was made Honorary Physician to Queen Victoria.
In 1890 Henry married Mary Robison, who was his junior by 25 years. They began their married life in our offices at No 2 Belgrave Crescent. A year later their son, Henry Robison Carter, was born, followed four years later by daughter, Mary Margaret Carter. Sadly, Henry was not able to enjoy this new family life for long because his tuberculosis was causing a rapid decline in his health and strength.
Henry died on 14 May 1897, a few days before his 66th birthday, in Belgrave Crescent and is buried in Dean Road Cemetery.
An obituary published in The British Medical Journal reviewed Henry Vandyke Carter's 30 years of service in India and his contributions to medical knowledge. The following is a very brief except:
"Few men have done so much for tropical pathology as Vandyke Carter. A keen observer, a skilled histologist, a good draughtsman, persevering and industrious in a high degree, and well abreast of the pathological knowledge of the day, he made full use of his opportunities during his long service in India, and shed much light on many interesting and obscure problems in medicine. He was endowed with the true scientific spirit, industrious in collecting facts, accurate in observing and recording them, sagacious in interpretation, not jumping to conclusions. ….

"When we reflect on the disadvantages of having to work in a trying climate, often with imperfect apparatus, without skilled assistance or appreciative companionship, and without the stimulus of competition or necessity, and far removed from libraries and many of the resources of civilisation, we cannot fail to be impressed by the high quality and the prodigious amount of valuable and disinterested scientific work which Vandyke Carter did for his profession."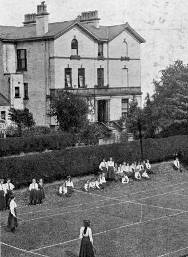 The 1891 Census shows Henry Vandyke Carter, retired surgeon from the Indian Army, at the age of 56 living at No 2 Belgrave Crescent with his wife Mary aged 34 and his sister-in-law Margaret Robison with a cook and a housemaid.
Next door at No 3 was Ravensworth Lodge Boarding School for Girls which was the home of five schoolmistresses, including French and Music teachers, 26 pupils and four domestic staff.
At No 1 Belgrave Crescent lived Edward Taylor, a retired deputy surgeon, with his wife, mother-in-law, daughter and four domestic staff.
In 1917 No 2 Belgrave Crescent was bought by Frederick William Plaxton, builder and founder of Plaxtons' famous coaches.
John Alfred Bryden, bought the premises in 1963 to use as offices for his firm of Chartered Accountants, Bryden and Co, and the building continues to be used for this purpose. With changes in partners and mergers over the years Bryden and co became Coulson and co, Coulsons, and currently Ashby Berry Coulsons.